Kaunis ja avara kokous-, edustus-, juhla- retriitti tai saunatila vaativimpaankin makuun kaupungin ytimessä. Beautiful and spacious apartment for meetings, feasts, ceremonies, retreats and sauna in theheart of Tampere. Sleeping possibilities for 6-8 people.
Kaksikerroksisessa huoneistossa tilaa on mahdollista jakaa esim. ryhmätyöskentelyä varten (2 mh+ yläkerran saunatila+ olohuone& keittiö). Yöpymismahdollisuus 6-8 hengelle (parvella 2 erillistä vuodetta, alakerran makuuhuoneissa toisessa leveä parivuode ja toisessa 2 erillistä sänkyä, 2 lisäpatjaa)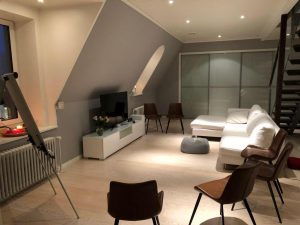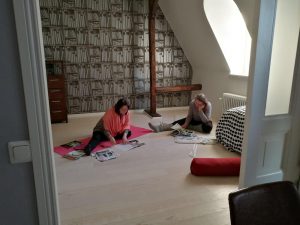 Aleksinvintillä järjestät koko päivän koulutuksia, tilaisuuksia tai tapaamisia tai nautitte vain olostanne vaikkapa pienellä ystäväporukalla. Vuokrattava huoneisto sijaitsee huippupaikalta, muutaman askeleen päässä Koskikeskuksesta, Rautatieasemalta ja Stockmannilta. Myös uusi Ratinan kauppakeskus sijaitsee aivan kävelymatkan päässä.
Avara 169 neliömetrin tilamme soveltuu 8-20 hengen tapaamisiin, riippuen käyttötarkoituksestanne. Tilassa on hyvin varusteltu keittiö, jossa voitte kokata samassa tilassa tai tilata ruoat paikanpäälle esim. Foodoran kautta. Astiastot ovat tyylikästä suomalaista designia 8:lle hengelle. Istumapaikkoja on 15 hengelle ja lisäksi istumatyynyjä ja mm. joogamattoja.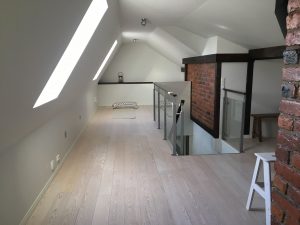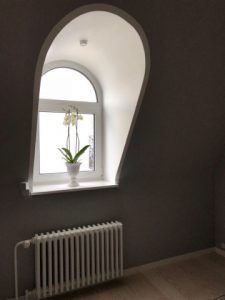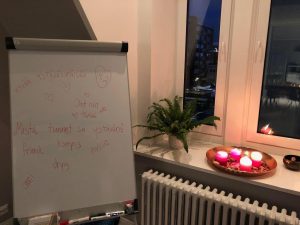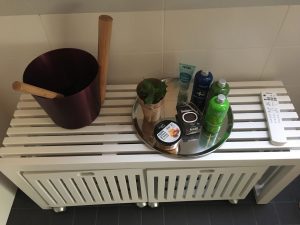 Katu on luultavasti Tampereen paras ravintolakatu. Samassa rakennuksessa sijaistee 2H+ keittiö ja aivan vieressä myös Pizzeria Napoli, joka on varmasti Tampereen jonotetuin ravintola. Kadun varrella on myös kahvila ja kivoja pieniä putiikkeja ja erikoisliikkeitä.
Huoneisto on tyylikäs arvoasunto ja huokuu vanhan talon ja Tampereen henkeä. Täällä on rentouttava tunnelma ja asunto on todella hiljainen.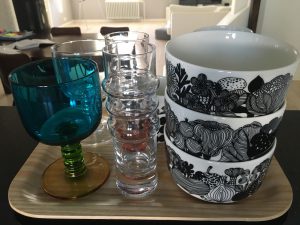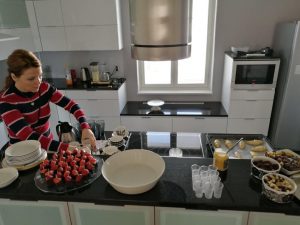 Tila venyy moneksi. Täällä on mahdollisuus pitää myös toiminnallisia tai rentouttavia tuokioita (saatavilla jonkinverran joogamattoja, tyynyjä, huopia). Käytössänne on Bose-äänentoistojärjestelmä. Lähellä sijaitsee myös legendaariset Pyynikin ja Varalalan lenkkeilymaastot munkkikahviloineen mahdollista virkistyspäivää varten. Saunaan mahtuu kerralla noin 8 henkeä.
Fläppitaulu ja nykyaikaiset kokouslaitteet videopalaveria varten.
Keittiö on siivottava huolella ruoanvalmistuksen tai tarjoilujen jälkeen, tiskit mukaan lukien.
Tiloissamme ei saa oleskella ulkokengät jalassa, mistä kannattaa ilmoittaa ryhmällesi etukäteen.
Tapahtumasi aikana olet vastuussa siitä, että tiloistamme ei katoa tavaraa eikä mitään rikkoudu.
Tilassa on 3 wc:ta ja 3 suihkua.
Hinnat alk. 250 eu päivävuokra, 290 eu yö (hinta riippuu sesongista, yöpyvien määrästä ym.) Kerrothan tilatarpeistanne, niin laitan tarjouksen tarpeidenne mukaan.
HUOM! Blocfestviikonloppu ja päättäjäisviikonloppu varattu!
Ota yhteys, kerro tarpeistasi, niin annan tarjouksen. Olet tervetullut viettämään ikimuistoista tapahtumaa tai vierailua Tampereen sydämeen.
a.kaisa.nurmi@gmail.com
Lisää tietoa, ideoita ja kuvia täällä:
https://www.facebook.com/Aleksin-vintti-1621063554646707/
Beautiful and spacious apartment for meetings, feasts, ceremonies, retreats and sauna in theheart of Tampere. Sleeping possibilities for 6-8 people. In a two-story apartment the space can beseparated for multiple sections for example for teamwork (2 bedrooms, an upper floor, a livingroom and the kitchen). In Aleksin vintti you can organize trainings, events, meetings or just enjoyyour time with friends. The apartment takes in place in a superior place, just a few steps fromKoskikeskus, a trail station or Stockmann. Also the upcoming mall of Ratina is at walking distancefrom the apartment.The spacious place (169 square meters) fits to 8-20 people meetings depending on your purpose.The well-equipped kitchen is able for cooking and you can also order foods from Foodora or Wolt.A tableware is stylish Finnish design for 8 people. There are 15 seats and some seat cushions,yoga mats, a double bed, 4 separated beds and a possibility for extra mattresses.
Aleksanterinkatu is probably the best restaurant street in Tampere. Restaurant and bar of 2H+K islocated in the same building and Pizzeria Napoli, that is one of the most popular restaurants inTampere, takes place in right next to the apartment. In the street there's also a café and lots ofsmall boutiques and specialized shops.Aleksin vintti is a classy prestige apartment. It has a spirit of an old building and a spirit of oldTampere.
The atmosphere is very relaxing and an apartment is very quiet.The apartment can have many use. You are able to organize active or relaxing sessions (some yogamats, cushions and felts are included). There's also a flip chart and modern devices for videoconference. The sauna is very spacious.Bose multi-room speakers are on your use. You are able to listen music on bluetooth or radio in
different parts of the apartment. The speakers take place in the kitchen, the living room,
bedrooms and the saunaThe legendary jogging paths of Pyynikki and Varala and are only two kilometers away for AleksinVintti — just like Pyynikki observation tower café that is well known for their fresh-serveddoughnuts. If you want some refreshment Lapinniemi spa is only 1.5km away.
You are very welcomed!
Contact us, tell us what you need and we make an offer for you!
The kitchen must be cleaned well after cooking or serving, including the dishes. The cleaning canbe also be discussed. You're not allowed to keep your outdoor shoes on when you're in theapartment. Please inform your group about that. During your event your responsible that anygoods don't get lost and nothing gets broken. There are three toilets and three showers in theapartment. We must charge 500 euros for missing keys. Playing music isn't allowed from 10PM to9AM. There are no other residents in the same floor but there are private apartments in thestaircase.